RINBIO ND+AI
Tuesday, April 11, 2017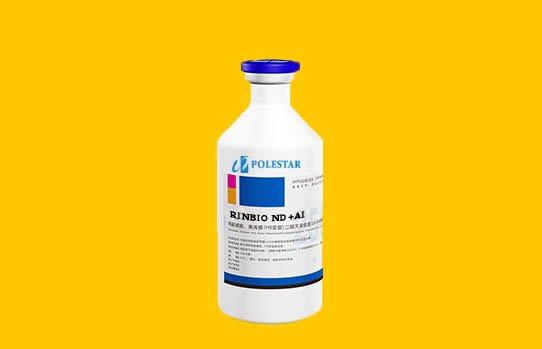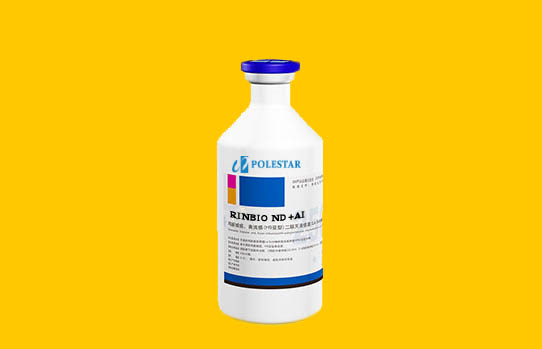 #
Items
Specification
1
Main Ingredient and content
It is Newcastle Disease Virus (La Sota Strain) and Avia Influenza Virus Vaccine,Inactivated (H9N2 Subtype, HP Strain)and Newcastle disease virus content is ≥108.0 EID50 / 0.1ml and Avia influenza virus (H9N2 Subtype) content is ≥107.0 EID50 / 0.1ml before inactivated
2
Character
white emulsion.
3
Function
Prevention of Newcastle disease and avian influenza brought from H9 subtype avian influenza virus.
The immune protective period is 2 months for chickens younger than 4 weeks old, 3 months for young chickens older than 4 weeks old and 4 months for adult chickens.
4
Usage and dosage

The vaccine is injected subcutaneously at cervical part or intramuscularly with 0.2ml for each chicken younger than 2 weeks old, 0.3ml for each chicken between 2 and 4 weeks old and 0.5ml for each young chicken and each adult chicken older than 4 weeks old.

5
Cautions

Only use for healthy chicken and can't be used for weak or sick chicken.
Carefully check the vaccines before using and can't be used if there are broken bottles, without label, impurity in the vaccine, seriously separation between oil and water in the vaccines.
Keep the vaccine to room temperature and fully shake it.
It should be used up within 1 day after remove the seal.
It can't be frozen.
Apparatus such as syringe needle need to be disinfected before using. The injection site should be embrocated with 5% iodine.

6
Storage and validity
Stored in the dark between 2℃and 8℃ for 12 months.
7
Specifications
250ml/bottle.
8
Packaging
40 bottles/carton.
Copyright © 2015 POLESTAR​ Co.,Ltd.