BIOTOP Marek
Monday, April 17, 2017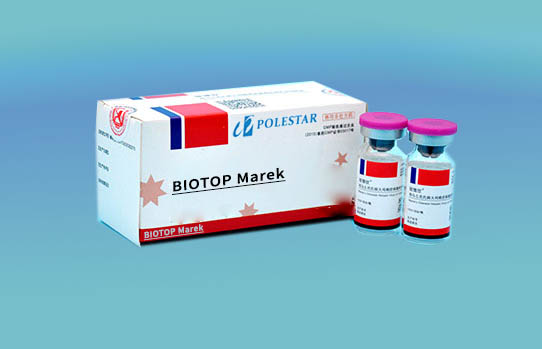 #
Items
Specification
1
Veterinary medicine name
General name:Marek's Disease Herpes Virus of Turkey Thermo-stable Live,Vaccine
Trade name: BIOTOP Marek's
2
Main Ingredient and content
This product contains Marek's disease turkey herpes virus FC-126 strain,each dose contains plaque number ≥2000PFU.
3
Character
This product is ivory loose spongy block, easy to separate from the bottle wall, quickly dissolve after adding the diluent.
4
Function
This product is used for 1 day chick to prevent Marek's disease.
5
Usage and dosage
According to the dosage on the label,add the special supporting diluent to dilute the vaccine. Each chick can be muscle or subcutaneous injected 0.2ml (including 2000PFU).
6
Adverse reactions
No adverse reaction.
7
Announcements

The chick should be vaccinated immediately after getting out of the shell in the chicken house where Marek's disease has happened.
The vaccine should be diluted only when usage,and by special supporting dilution.
Put the vaccine in a container with ice,used up in one hour.

8
Storage and validity
Sealed storaged in 2-8 ℃ dark place for 24 months.
9
Specifications
500 doses/vial, 1000 doses/ vial, 1500 doses/ vial.
10
Packaging
Controled glass vial. 10 vials/box.
11
Approval number
Veterinary (2013) 030382075.
Copyright © 2015 POLESTAR​ Co.,Ltd.